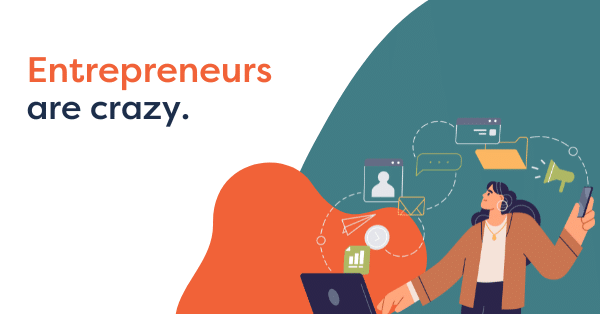 "You have to be a little crazy to be an entrepreneur."
Those words rang true when my business coach (a three-time entrepreneur) said them to me. And they stayed with me.
Starting a business means losing the support of being an employee.
You don't even really think about it.
But working for someone else means many, many aspects of the business are not your problem.
You just have to focus on your role within the organization.
You have a specific job to do, and you do it to the best of your ability.
Finances. Operations. Marketing. Sales. HR. Management. IT. R&D. Legal. Supply Chain. Customer Service.
If you take the leap to go into business yourself, suddenly, it's all very much on your plate.
At first, you usually handle it all on your own. That's one learning curve.
Then you may hire help – but that means you have to learn how to manage that help effectively.
The thing is, being an entrepreneur means being a jill-of-all-trades. You have to be willing to learn all aspects of the business, even if it's not your forte.
And that is crazy… but it's also what makes it so much fun.