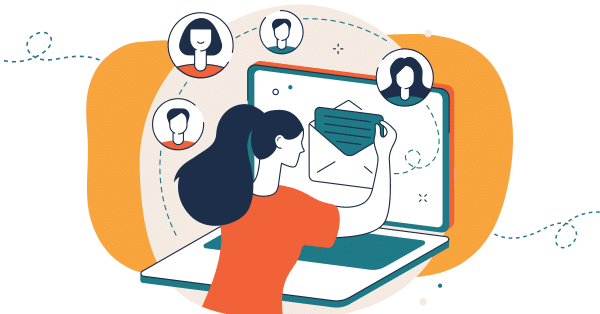 MailChimp is a behemoth in the email marketing world for a reason. It's a solid and user-friendly tool.
We used it at WR Digital Marketing for probably a decade. And over that time, we watched it change.
Especially over the last few years, they have added more bells and whistles… which led to more add-on charges and a clunkier interface.
It's now a big enough competitor that there's no need to woo customers with a strong free level. So instead they can focus on squeezing every last dollar possible out of each user.
Our breakup became official when MailChimp no longer offered the ability to schedule emails in advance as part of their free plan.
No small business has the bandwidth to manually send emails on the right day and time! And many do need a free tool to get started.
So we have since moved to MailerLite.
I'll share why your business should consider the move, too. And why I definitely recommend it if you are a small business just starting out (or restarting) email marketing.
But first: I know I'm knocking on MailChimp. But honestly, it continues to be a good email tool with a solid reputation.
If you already know and like the MailChimp interface, here's my advice: if it ain't broke, don't fix it!
It will take time and effort to change to a new platform. So consider if it makes business sense to make the move.
There's Nothing "Lite" About MailerLite
Many people are automatically put off by the name of the tool.
Lite? I want something robust. I need to schedule campaigns. Segment audiences. Automate journeys!
Yeah, Mailer'Lite' does all that. And that's at the free level.
Most of the email marketing tactics useful for small businesses can be accomplished without spending a dime. Just as long as you have less than 1,000 subscribers and don't plan to send them each more than 12 emails per month.
(And definitely don't send them more than 12 mass emails a month, please!)
But if you're willing to shell out $9, you get access to even more features, including one of my favorite marketing tactics: the auto-resend. 
When used right, it can give a significant boost to your open rate — without a loss of subscribers or spending any extra time on your content.
But You Also Don't Need a Course to Learn to Use It
It's a robust tool, but there's not a steep learning curve.
MailerLite's drag-and-drop editor gives you plenty of creative freedom (and templates if you're not a designer).
And setting up drip campaigns and automatic emails is simple, too.
If you need a little help and don't have a huge marketing budget (yet!), consider working with the team at WR Digital Marketing.
We can design your email template, set up your audiences, and provide feedback or training on anything you want to learn.
Or we can manage the whole thing for you, of course!
But even without our help, you'll be able to pull off an email campaign that looks alright and does what it needs to.
And as a small business, half of the battle is simply getting it done.


End Up in More Email Inboxes
When you first sign up for MailerLite, you'll have to go through a few steps before it lets you send anything.
A tiny hassle with a big upside: better email deliverability.
What does that mean?
When you send an email, it's considered successful if the receiving email server gets it.
But! Sometimes that email doesn't actually end up in a human's inbox after that.
It may be caught by a spam or junk mail filter. Or the Gmail Promotions tab. Or simply go 'missing'. (Really!)
And so that person doesn't see it.
Some providers have a reputation for getting through those spam and junk mail filters more easily — including MailerLite, which consistently tops the list.
And that brings us back to the slight hassle when signing up.
You take a few minutes to confirm you're a human. That you're not planning to spam anyone. And everyone using MailerLite benefits from better email deliverability.
Who doesn't need more eyeballs on their content?
And That's It!
Email isn't sexy. But it is definitely effective.
MailerLite is similar. It gets the job done. And it does so on a budget.
Is it worth making the change? It depends on how much time and effort you've poured into MailChimp already.
But if you haven't gotten too deep in the weeds, I highly recommend taking MailerLite for a spin first.
A Note About Our Recommendations:
At WR Digital Marketing, we do not take advantage of any affiliate programs, accept commission fees, or earn referral fees. And we never will.
And here's why:
While we have our favorites, we are dedicated to being as tool agnostic as possible.
If we're not familiar with a tool and the learning curve is too steep, we'll refer you elsewhere. But most tools are easy for our team to quickly learn because, well, that's what we do for a living!
Asking small businesses to move their efforts around just because we prefer one tool over another doesn't make sense. And we firmly believe the best tool is the tool that will actually be used. If you're already comfortable somewhere, we'll meet you there.
Our mission is to support the growth of small businesses.
And if we have the incentive to push one tool over another, just to earn a few bucks, that runs counter to our mission. We'd rather be a reliable source for the pros and cons of what's available on the market today.
The same goes for referring businesses or individuals. We only recommend companies and people we believe in. Because we know those recommendations make us more valuable to the small businesses we support!